About Edgar: Edgar Jansen lives in Amsterdam and is working as a portrait painter. Music and dance also are a source of inspiration for him in his art. With his flowing lines Edgar is able to suggest movement and to show the character of the dance. The freedom of movement gives him the opportunity to draw in a loose and expressive way.
As a frequent guest of dance performances and contact improvisation jams, Edgar usually makes numerous quick sketches on the spot. Particularly fascinating for him are partnering situations of the dancers. In his eyes the different bodies merge into new shapes like living sculptures that are constantly changing.
His technique is an improvisation with different art materials (watercolor, ink and chalk). The drawings are like 'dancing on paper'. If you are interested in contacting Edgar, go to his website , where you can also find his email-adress.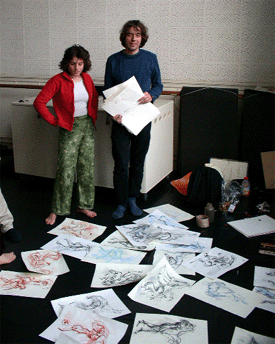 Edgar after a contact improvisation jam